By Kara Leduc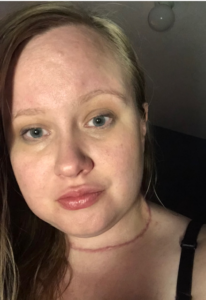 It has taken me a while to feel comfortable with the scar on my neck from two surgeries I had for thyroid cancer. The two surgeries were four months apart, with a section at the middle of the base of my neck just above my collarbone being operated on twice. The portion of the scar that extends to my left ear has mostly healed or I can cover it up with my hair. The area that was operated on twice has taken a lot longer to heal. I can only cover that portion of the scar with turtleneck or a scarf.
I should be proud of my scar but at the beginning of my cancer journey, I didn't want it to be the first thing I noticed in the mirror or that others noticed when they saw me. I felt some stigma about being a young adult with cancer, even though it was not my fault and I shouldn't have felt any shame.
I was very careful to avoid getting sunlight on the scar but then I think I used that as my excuse to wear thin scarves year round for a couple years. I wanted to protect my skin but also protect myself from having to discuss why I had such a noticeable scar. It was easier for me to pretend the scar wasn't there and that I hadn't ever had cancer.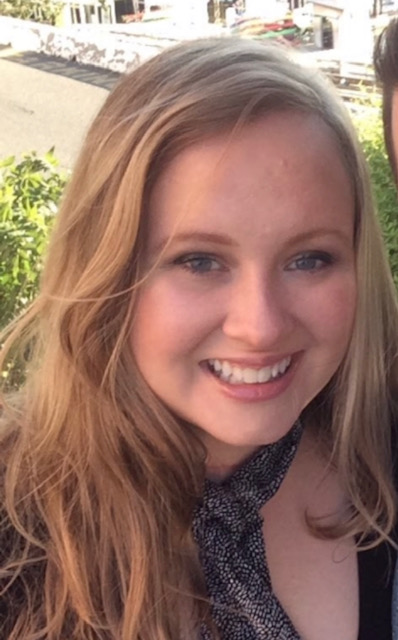 I consulted with a plastic surgeon to see if I would be a good candidate for scar removal surgery, but I wasn't. That doctor injected my scar with a steroid a couple times and that helped to soften and to mobilize the scar. Physiotherapy, acupuncture, and massage also helped, too.
It has been over four years since the cancer surgeries and my scar still continues to slowly improve. Sometimes I put a bit of makeup on the portion I can't cover up to reduce its redness. I equate it to how much better I feel if I put a bit of makeup on my dark circles or blemishes. Some days I am comfortable though with not worrying about covering up my dark circles, blemishes, or scar.
Slowly I have accepted that the scar and cancer story are both a part of me.