It takes longer to recover from cancer than to be treated for it. At Young Adult Cancer Canada (YACC), recovery is about more than remission, it is about living a life worth loving, hopefully for the long road.

Recover is a community-led study where we work together to set the priorities and better understand life and cancer for young adults and how it affects your quality of life over time.

Gardez l'oeil ouvert car notre étude sera bientôt disponible en français.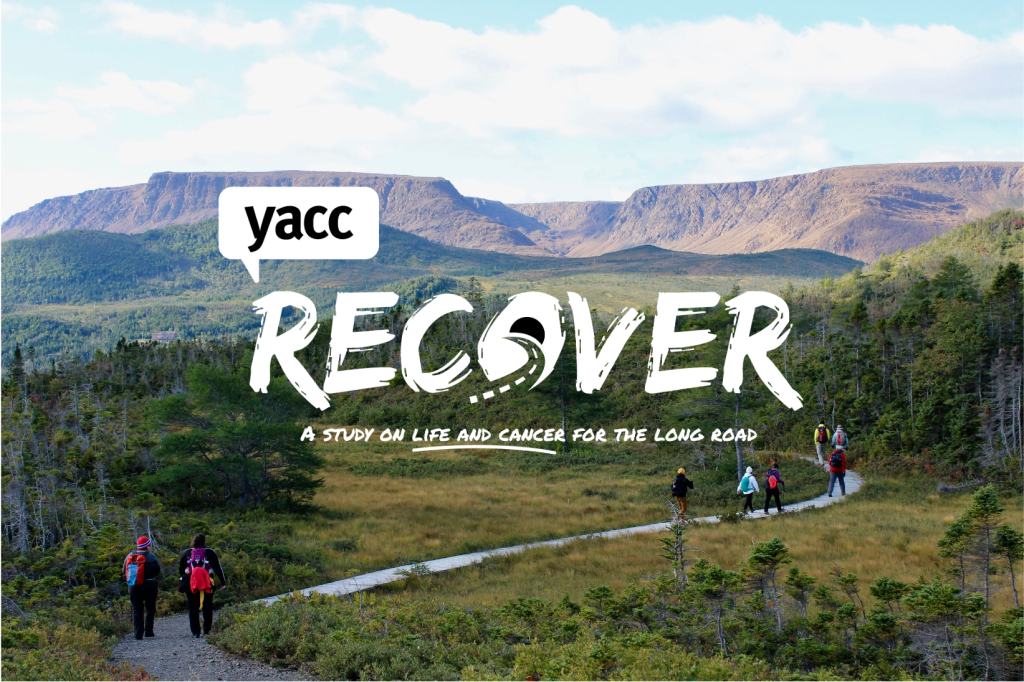 People living in Canada who are over the age of 18, and were diagnosed with any type of cancer before the age of 40.
We hope to enrol 2000 people to get a complete picture of what it means to have cancer as a young adult right now.
The information you provide will be used to increase awareness and develop programs to address the issues that YAs with cancer feel are most important.
You will be paid $20 for each year you complete the survey.

You will complete an online survey once a year for up to five years. Each survey will take approximately 30-45 minutes to complete.
After that, we'll keep you updated on the project over time, and will reconnect with a new survey every year for the next four years to get five snapshots of your life after a cancer diagnosis.
The follow-up surveys will be very similar to the first one.
In addition to the survey portion, there are additional optional opportunities to help YACC dive deeper into some topics which will include:
Interviews, focus groups, and other creative methods
Providing your consent for YACC to link your survey responses to your YACC website membership on the YACC website which includes program attendance.
Providing your consent for YACC to contact you for future programs that could benefit you based on your survey responses.

All you have to do is fill out this short form! Once we confirm your eligibility, you will receive an email with a unique link to complete the survey.
Please email research@youngadultcancer.ca if you have any questions.
Thank you for your interest!
---
Background
Building on the YAC Prime Study, Young Adult Cancer Canada (YACC) will develop and nurture special partnerships with researchers who have a shared commitment to creating positive change for young adults dealing with cancer in Canada and around the world.
This research project will be a community-based, innovative, and committed to knowledge translation to young adult survivors and those who care for them. YACC wants to make sure the voices, needs, and input of young adults directly impacted by cancer is at the heart of any research project we take on.
This study aims to understand how young adults affected by cancer recover from their cancer diagnosis and treatment. We want to know how your mental, physical, social and financial health changes over time, and we also want to know what factors might impact your cancer recovery. We also want to know if cancer organizations are currently helping improve how young adults with cancer feel and adjust after cancer.
Data obtained through this study will be used to inform cancer programming that best meets the needs of young adults affected by cancer, to advocate for their needs, and to inform you, the participant, of our findings in areas that are most relevant and (hopefully) life-changing for you!
---
FAQs
How many people will participate in the study?
This study will take place across Canada and will aim to enroll 2000 people.
How long will it take to participate?
You will be asked to complete five surveys over the next five years on an annual basis. The total time to complete the survey each year will be about 30-45 minutes. The total time commitment will be about four hours over the next five years.
Will my participation be confidential?
Protecting your privacy is an integral part of this study. If you decide to participate in this research, we will do our best to ensure that your personal information obtained during this research study will be kept private.

If information from this study is published or presented at scientific meetings, your name and other personal information will not be used.
---
This project has been reviewed and approved by the Community Research Ethics Board. If you feel you have not been treated according to the descriptions in our information, or your rights as a participant in research have been violated during the course of this project, you may contact the Chair, Community Research Ethics Board, at:
Community Research Ethics Office (Canada) Corp. c/o Centre for Community Based Research, 140 Westmount Road North, Waterloo ON N2L 3G6
Email: creoadmin@communityresearchethics.com