By Elise Bonder
For the second post in this series, I want to get into why, why, why I bullet journal.
The fog is thick—I mean THICK—in this brain of mine. Surgery and chemo and surgery and chemo and surgery some more have left my memory, time management, and processing sub-par.
At heart (and pre-cancer), I was a super-organized person with a business degree, but now, day-to-day, you can't tell.
When it comes to organization and time-management, I can be a real mess.
My goal every day is to start and finish the things that keep me as healthy as possible, simple as that. I need to get to appointments on time, fit in some social time, eat right, work out, walk my dogs, and keep my home tidy.
There are thousands of systems out there to organize yourself. I've used many, ranging from 100 per cent electronic systems with beeping reminders to start and finish every activity, to letting my day free flow entirely.
On one end, I was continuously time stressed and staring at my phone and watch to know what I should be doing. I would run late and freak out.
On the other hand, if I free-flow my day, I wind up late to appointments, being out of the house when my energy is too low, and driving in rush hour traffic for no good reason. GRRRR!
So now I bullet journal.
Every morning, I make my breakfast and open my journal. I look at my monthly log to see if I have any appointments and tasks and I write them in my daily log.
This includes a must-do for today and a want-to-do for today. If I have timelines, they get included as "Oncology @ 1 p.m. ~ Leave by 12:15"
It's simple and quick and I've not missed anything crucial since starting this system six months ago. There are also lots of other reasons to bullet journal. Here are my favourites:
I want to reduce my screen time
Ohhh Facebook messenger. Instagram. Pictures. Squirrel. I get distracted REALLY easily. Squirrel. When I'm trying to get something done, I need the least amount of distractions possible. Using a book eliminates almost all distractions so I can get things like scheduling done faster.
I want to remember "stuff"
Writing by hand connects to my memory far better than using digital communication. I know I'm not alone here. I am actually remembering things like "Oncology @ 1 p.m." better than ever before. It's the little victories, right?
If Facebook crashed and never appeared again, would you know when your closest friends birthdays are? I may not remember them by heart, but I've entered the dates in my journal, and on the first of each month, I can plan my cards and gifts with time to spare.
I want to document my life
There are millions of details which make up our lives, and whether poetic or not, there is documentation to be done! On one hand, I journal about the little things that make me smile, make me struggle, and make me think. I ponder and celebrate in my bullet journal. Sometimes I cry.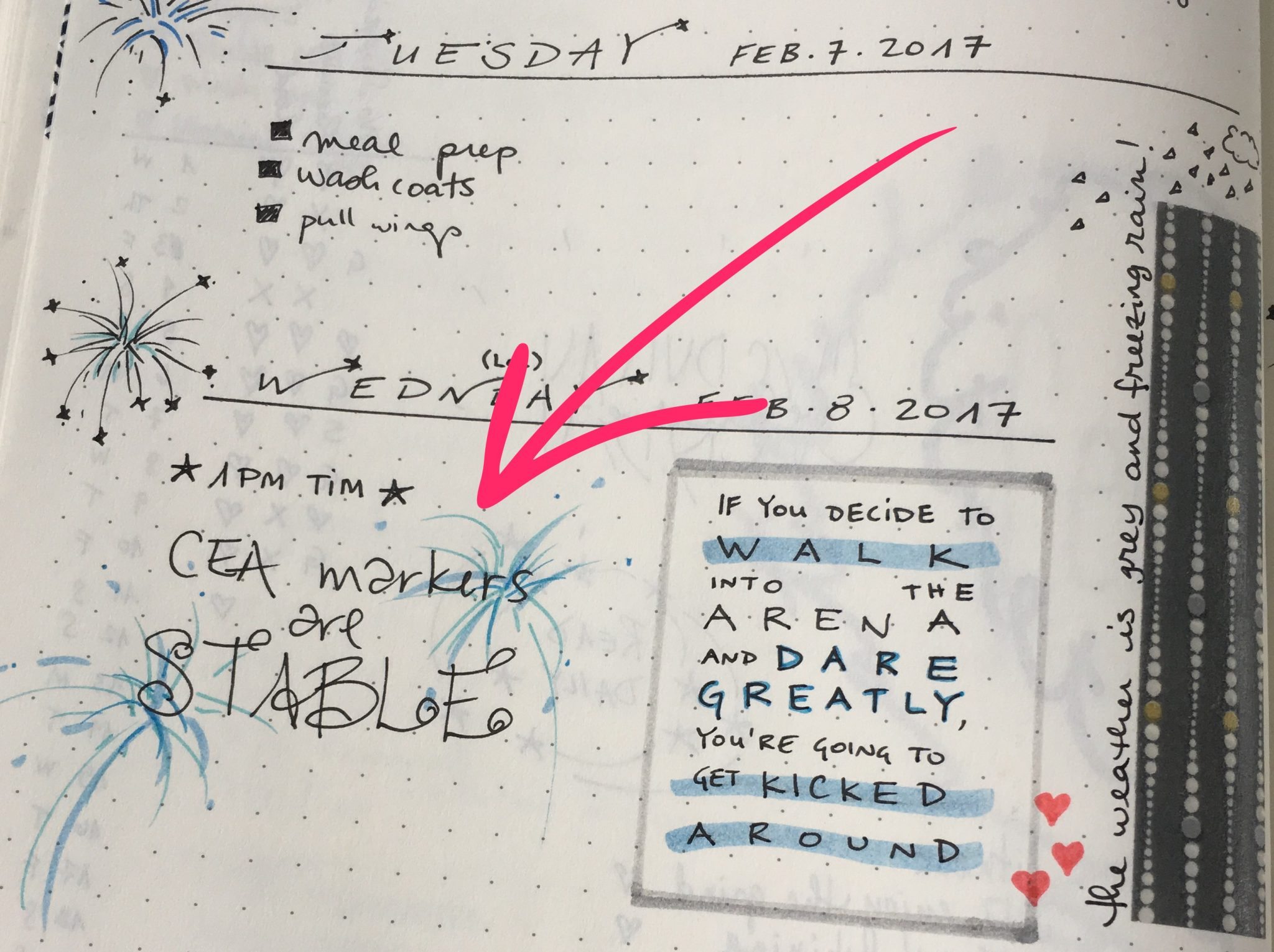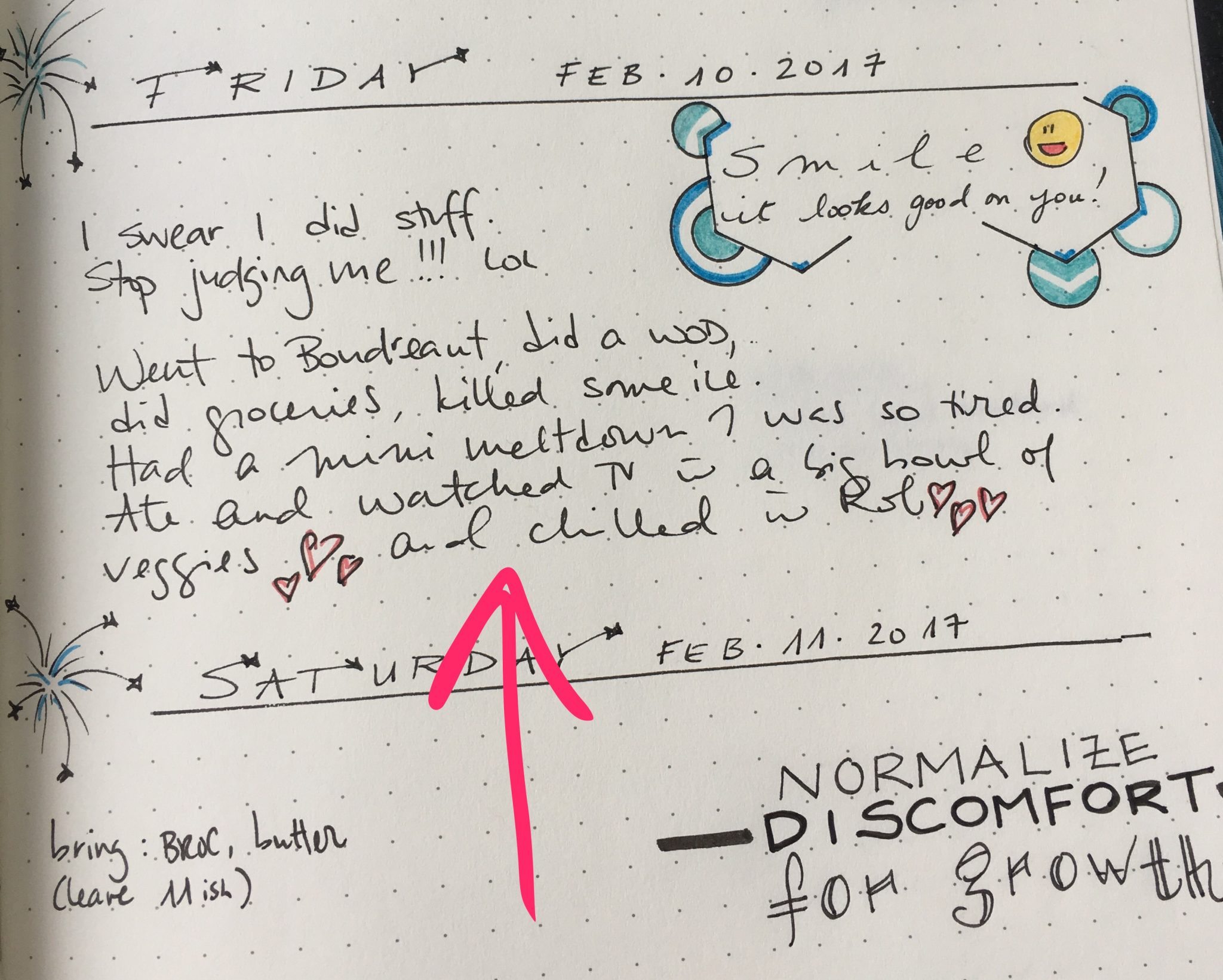 My journal isn't filled with "Dear Diary," but it's filled with the little moments that make up my life. I love looking back on them after the fact.
My journal is also filled with practical things I need to know. My entire cancer history is written in short form so I have all the details handy for appointments should I need them. I can tell you my blood markers, my scan days, and the phone numbers of all my doctors. There are things I just wouldn't remember otherwise, but I use those pages all the time for reference.
I want to build new habits
I have a resolution in 2017 to read every day. Post-chemo, reading has been incredibly frustrating and difficult for me. I have a reminder in my journal to do this task, and I have a spot for a checkmark when I have completed it.
I want to be imperfect
I used to be the person who was such a perfectionist that I'd only use one side of the paper so ink would never seep through, like even a tiny shadow. Fast forward in a not-so-straight line, I got cancer. Fast forward again, and the brain fog was thick. I'm not done accepting my new brain, my new limitations, my new body, my new energy, but what I do know is I am ok being imperfect. Bullet journals aren't perfect and it's part of the fun! In part 3 of my series, you'll see how mistakes happen and how we deal with them. Sneak peak here: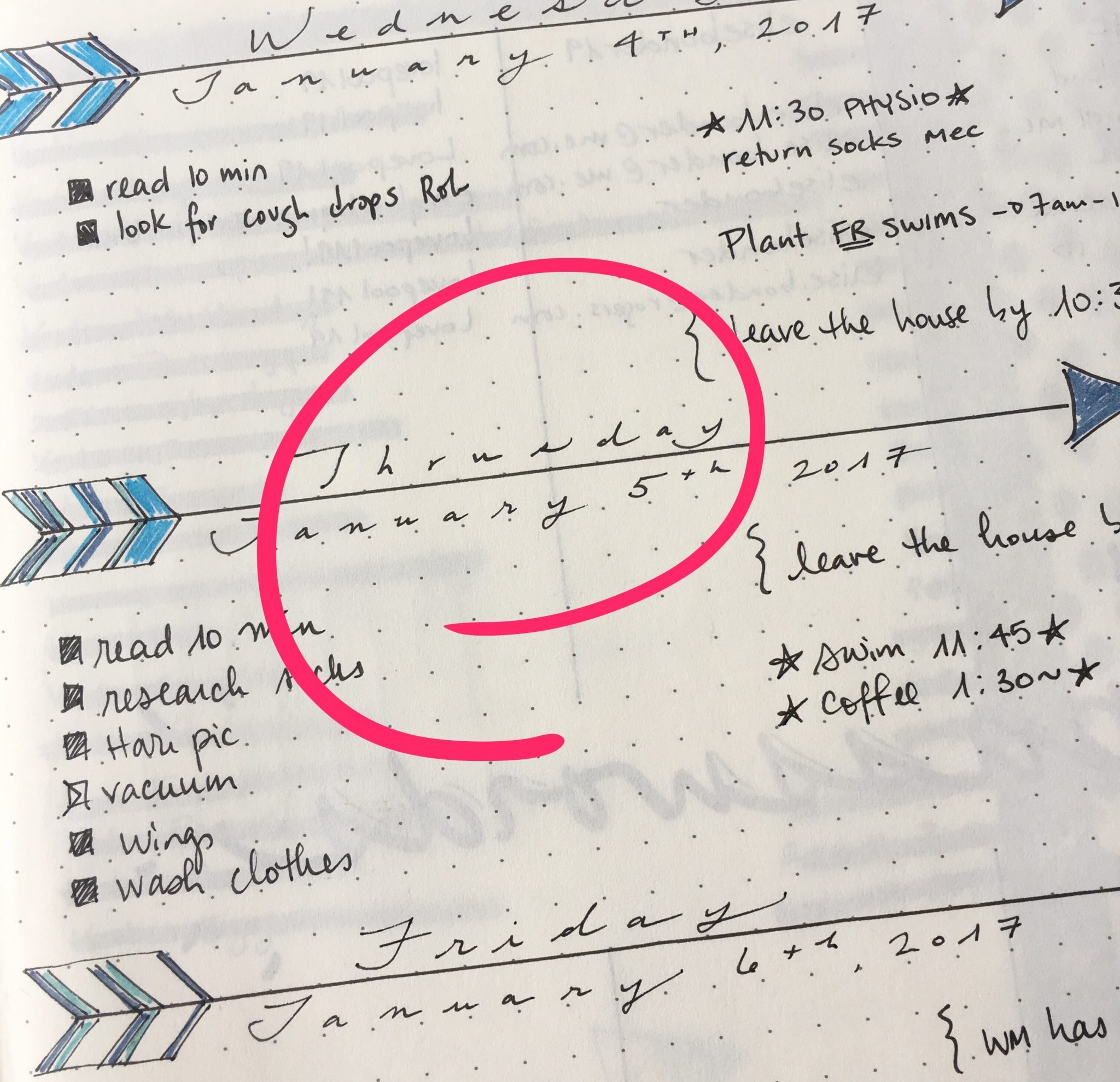 I want to be creative every day
I get a lot of joy and relaxation from being creative. I want to give myself time every day to have that outlet. It's almost like my meditation time. My journal allows me to be really straightforward and it allows me to go nuts with colour, shapes, doodles, layouts, lettering, and so much more. It's just NOT digital, and I love that!
In part 3, I'll be all about the creative side of bullet journaling and my favourite hacks. I'm super excited!
Click here to read Elise's intro to bullet journaling!