By Elise Bonder
Hi! I'm Elise, 2x colon cancer survivor, diagnosed stage 2 in 2012 and had surgery and chemo. I recurred in 2014 with metastatic colon and had surgery and chemo again. My brain didn't fare so well over the course of all that and the brain fog is still really deep, despite a lot of work. You might be like me. I know that many of you are like me — forgetful, unaware of time, distracted and frustrated that nothing seems to keep your brain in order. In the electronic world, we are so quick to want an app to solve these problems but I've found that old-school is working better than anything else.
I bullet journal.
Not just a little bit, either. I'm into it. Full on into it, like bring-my-journal-and-pencil-case-to-Starbucks into it. Like nod at the girl beside me who's doing the same thing while drinking her coffee, into it.
I bring my bullet journal everywhere I go. Literally.
It helps my day flow as best it can. It helps me be creative everyday, remember my friends' birthdays without Facebook, remember my grocery list, and keep my medical history with me. It helps to cut back on screen time, and it keeps all the stuff I can't remember available to reference at a glance.
What is a bullet journal?
A bullet journal is just a book organized in a kinda specific way. These are the general sections:
Index: The first page with each topic and its page number.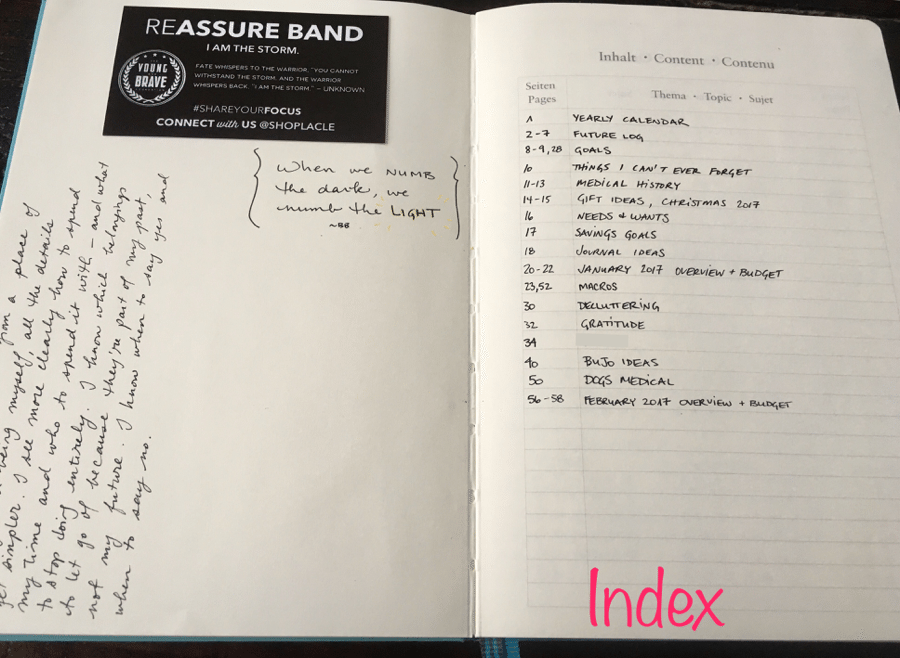 Future log: An at-a-glance look at the next six to twelve months. Here you jot notes for things that are far ahead.  This is two of my six pages for 2017.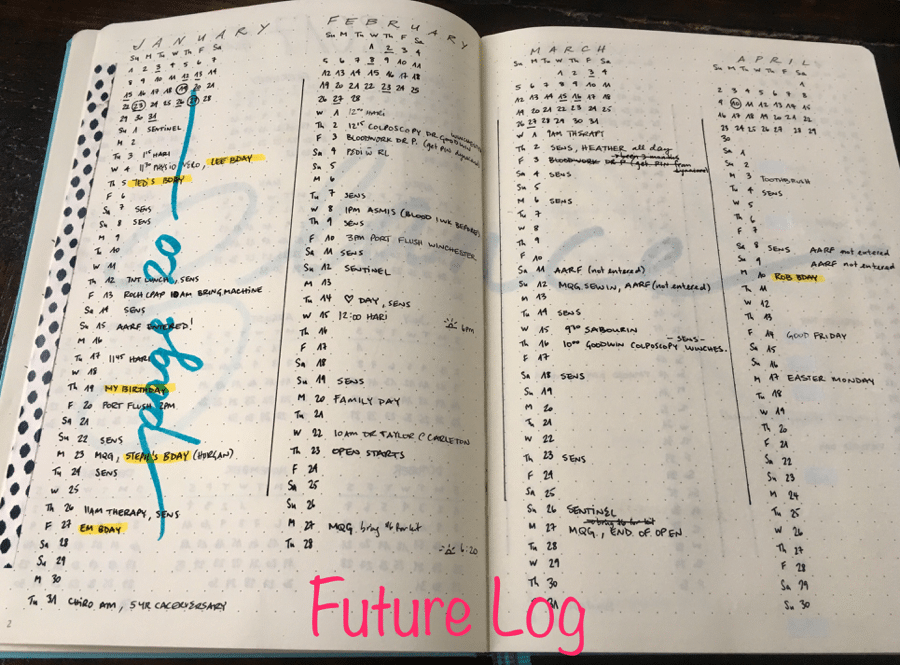 Monthly log: At the start of every month, you write your monthly calendar for an at-a-glance look at the month to come. February is a fresh start while January is at the end with all my notes for the month.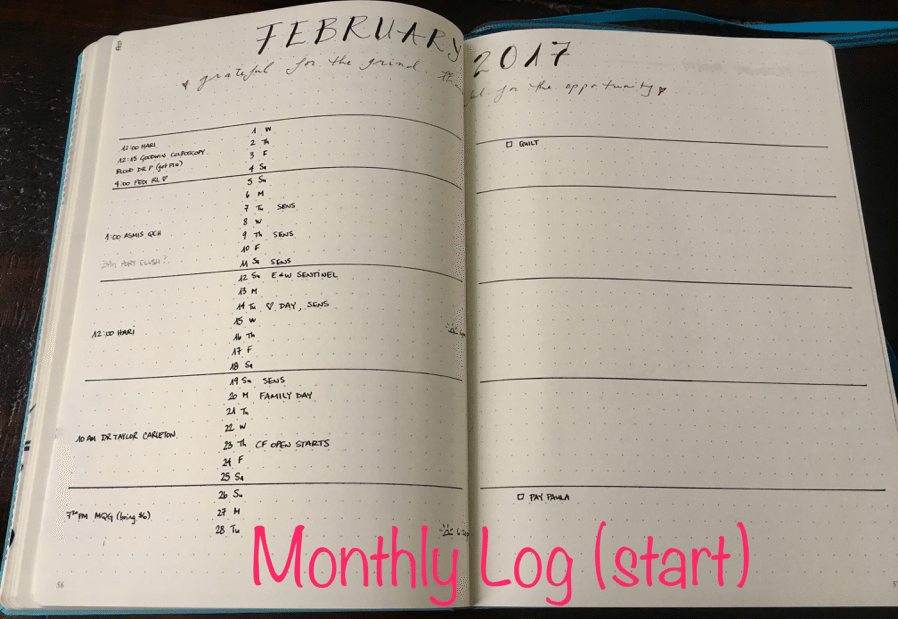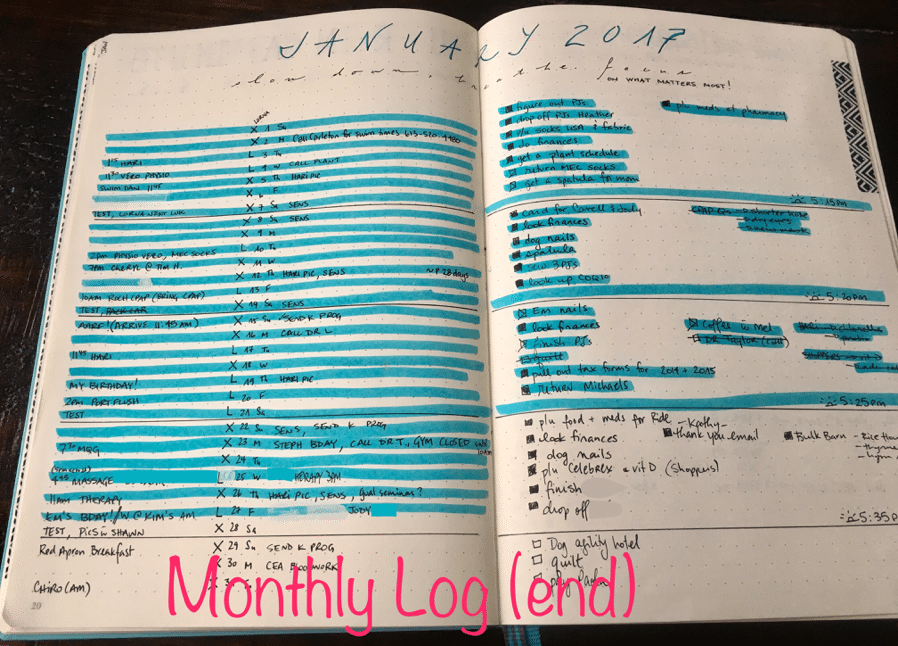 Daily log: Daily, you jot down your to-do for the day, any appointments you might have, and any lists you need. Anything you need today.
As you write new pages on whatever topic, you go back to your index to write the page's number and topic so you know where to find it later without flipping through each page. In this type of journal, you don't save specific pages or leave lots of blanks in any area. You use the pages as you need them and use the index and page numbers to stay organized.
And then there are the pages you use to do anything you like. These are popular choices:
Habit trackers
Goal setting
Lists for anything and everything
Medical
Quotes you love
Brain dump pages (like the one that started this post! – check out the picture)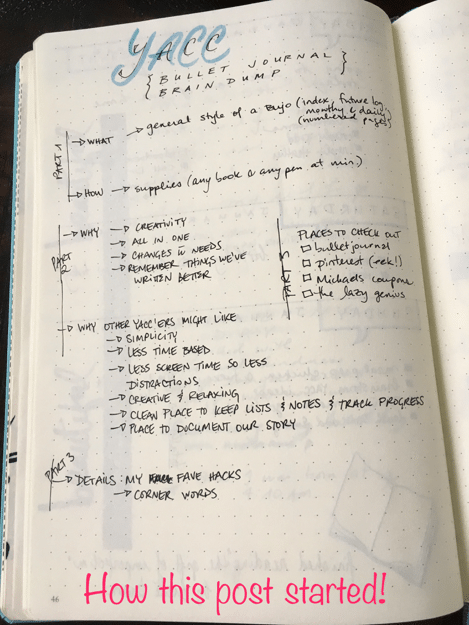 Usually there is also a system to document whether a task is finished, pushed to another day, or cancelled altogether. Check out the picture for my notations, which are basic. To see them in use, look at the daily log picture.
Having said all that, I think it's well worth watching the official video. I watched it twice then followed along to start my first book.
The thing that I love about bullet journaling is you can constantly adapt the system to work for you and your current needs.
What Do You Need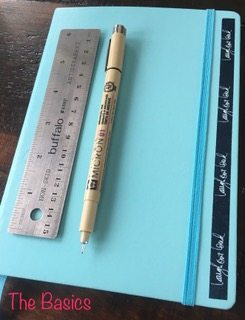 Be a minimalist and use literally any book and any pen. Let it grow like crazy and you'll be into the rulers, the pens, stencils, stickers, and the washi tape.  Here's my two cents on the basics you need.
The book: If you think you'll like this system, get yourself a $25 Leuchtturn1917 book from Chapters.  This hardcover book will last all year and stays open without a coil spine. The first few pages have a built in index and the pages are already numbered. It has a nice little pocket at the back to store the tiny ruler you'll buy later. It also comes in a dozen stunning colours!
If you're like me, the lines on regular paper cause too much visual clutter, so try the dotted quad option instead. See all my pictures to see if you like it as much as I do.
If you opt to use any book you have on hand, just save a few pages at the start for the index and write your page numbers on each page as you use them.
The pen: Do a test run of your pen to make sure it doesn't seep through the paper. To keep visual clutter low, I use only black and a few colours to accent.
Tiny ruler: A 6" ruler is worth the few dollars you'll spend on it. It's just nice to have straight lines. Look at Staples or a dollar store in your area.
You have everything you need to try bullet journaling!
In part 2, I'll talk more about why I love the system so much: everything from reducing distraction to keeping everything in one place. In part 3, I'll give you my favourite hacks and we'll get creative with it. The washi tape *may* come out and you'll see the pens I love most!