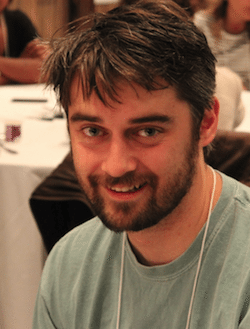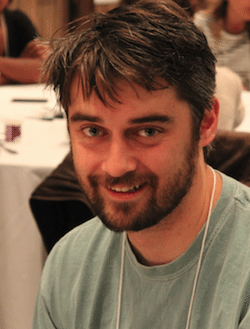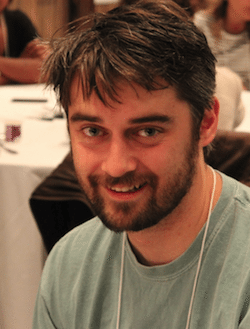 Name: John Aubin
Age: 33
Hometown: Georgetown, ON
What school did you attend? Bishops University
Where do you work? ServiceOntario

Your experience with cancer:
Who did you support with cancer? Amy Aubin
How did you find out about her cancer?
Amy came home from a YACC Retreat Yourself in 2011 and told me the cancer had returned.
What kind of cancer was she diagnosed with? Metastatic Ovarian Cancer
When was it? First time in 2006; it returned in 2011.
What were your first thoughts when you found out about the diagnosis?
My first thoughts when I found out the cancer was back was that it was spring, and I thought it was going to cost us a summer in treatment, but we will do what needs to be done, and move forward cancer-free. I thought I could be a good cheerleader for that long, but I was sure she would be moving on from treatment in a matter of months. Turns out it has taken a little longer.
How did you support her?
The hardest thing about the cancer diagnosis for my wife was the loss of control. Cancer was controlling the daily schedule, whether she liked it or not. As a result, she wanted control of her treatment. She wanted to talk to the doctors on her own. She did not want — nor did she need — an advocate. I supported her by telling her I would be where she needed me. I would give her space upon request, but I would never be too far to help. I tried to give her at least a little control over my support, to help with all the control she felt she had lost.
Were there any resources you used to help you cope with supporting someone with cancer?
There were some resources we used, to help drive to and from appointments and whatnot, but mostly we leaned on family and friends (thanks guys!)
Did you attend any treatments with her?
Amy often wants to be alone during treatment, and I respect that. I have gone to a couple treatments with her, and driven her to and from many appointments. I like being there, because it feels like I'm helping. I think it is important to feel helpful, especially when the situation leaves you feeling powerless.
How did you feel during her treatments?
When treatment first starts, I get a bit of adrenalin, and I try to take over everything in the house. I cook do dishes, fold laundry. As the treatment progresses, I usually get burnt out, and need to depend on friends and family for help.
In which hospital was she treated? Princess Margaret Hospital (PMH)
What is the outcome?
They have found more cells on her lungs recently and she is back in treatment.
How is life different for you now that you have had an experience with cancer?
I am probably a better person now than I was before my wife was diagnosed. I learned to cook, and I do more cleaning around the house than ever before. I also started running, which is the first exercise I have gotten since high school. I am trying to learn to eat better and I try to drink less. My wife's diagnosis was a bit of a kick in the pants that I needed to get my life together. It made me realize that I need to be strong for my wife and child, not just now, but years down the road as well.
What was the hardest thing about adjusting to life after someone close to you was diagnosed with cancer?
We have a child, and when Amy is sick, and in treatment, I lose my partner parenting our daughter. All while she is scared and really needs her mommy the most. It is hard being there for everybody, and often times it feels like you are there for everybody at the expense of yourself. It is easy to feel burnt out, when there is so much weight on your shoulders
What is the toughest part of having an experience with cancer?
The helplessness. You bend over backwards to try and help, but at the end of the day, your loved one is still sick, and nothing you do changes that. You also run yourself ragged trying to cover all the household responsibilities, but I still have no right to complain, because compared to my wife, I have it pretty easy. So you just end up feeling guilty for not being able to do more.
What motivates you to keep going while she is sick?
We have a daughter and she needs a stable and loving environment, more now than ever. I try to be the best parent I can be, and that means taking care of my wife.
What lessons or messages have you taken away from your experience?
Life is hard, but while my life is hard, others have it much harder than I do. My wife, for example, has to deal with the treatment, which looks a lot harder than just taking care of someone getting the treatment. All you can do is take care of your partner to the best of your abilities, and make sure you take care of yourself. A burnt out supporter helps nobody!
Did you attend any support groups?
I have not attended a support group, mostly because they are in the city on week nights, and I am too busy to commute back from the city and then get everything I need to get done for work the next day. I do have a small network of supporters I turn to when I need help, and I find that works for me.
How are you connected with Young Adult Cancer Canada?
I have been to a couple conferences, and recently I have written a couple blogs for the website.