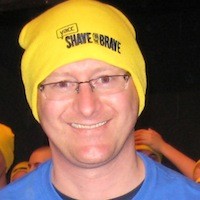 Name: Ian Davidson
Age: 41
Hometown: Clarenville, NL
What schools did you attend? Memorial University of NL, The University of Lethbridge, Northwestern State University
Where do you work? Principal, Clarenville High School
What is your career goal? I want to make a difference in the lives of children on a daily basis.
Your experience with cancer:
Who did you support with cancer? My wife, Janice Hiscock Davidson
How did you find out about her cancer? 
Janice had a very aggressive APL leukemia and it became apparent, rapidly, that something was very wrong. Next thing we knew, we were packed in an ambulance with two bags of blood and a nurse on the way to St. John's for emergency chemotherapy treatment. Five years later, our cancer journey continues. However, we feel in our hearts we are coming to a positive end.
When was it? May 2008
What were your first thoughts when you found out about the diagnosis? 
Cancer?  We are 34-years-old, it can't be cancer…only old people get that or young kids. Not young adults!
How did you support her?  
By being a positive force in her life every step of the way. I always strive to take care of the things that would upset her the most like taking great care of our three children, keeping the finances in a good place, helping out with cleaning and cooking more.
Were there any resources you used to help you cope with supporting someone with cancer? What were they?  
YACC was a big support in our lives.
Were there any resources you were looking for, or would have helped you?  
Helping children cope with cancer.
Did you attend any treatments with her? What was your experience like?    
I was with her every step of the way. So difficult to watch someone you love suffer but I focused on being her rock while she went through her battles.
During the treatment phase, how did you felt emotionally, physically?
I didn't take very good care of myself the first time around and when it was all over, I collapsed like a sack of bricks. I had been holding in all my feelings and the anxiety and stress over whelmed me. I didn't allow this to happen the next two times. Exercise, healthy eating, deep breathing and talking with trusted friends helped so much. So did YACC's fearless leader, Geoff Eaton, who was a real rock for me these past three years when I met him. He is an exceptional person who has certainly helped more than me in this lifetime.
In which hospitals was she treated?  
Health Science in St. John's, VG in Halifax
What was the outcome? 
The first two times Janice went into remission but, sadly, relapsed. We just recently had an allo stem cell transplant in Halifax and we are hopeful it will lead to a cure.
How is life different for you now that you have had an experience with cancer? 
We have lost our naiveté and sense of innocence. However, we appreciate each day more and are more determined to pay it forward and make a difference with our lives.
What was the hardest thing about adjusting to life after someone close to you was diagnosed with cancer? 
As young adults, most likely, you have no one else in the same boat as you. This means you become an unknown commodity in your friend circle. Everyone else is going on trips, buying cabins, having children etc., we have been in limbo for a long time.
What is the toughest part of having an experience with cancer? 
Dealing with the reality of potentially losing your life partner. That is scary.
What really motivated you to keep going while she was sick? 
Our children and our dreams for the future.
What lessons or messages have you taken away from your experience? 
By changing how we look at misfortune in our lives we can not only defeat it, but learn and grow from it as well to make the world a better place.
How are you connected with Young Adult Cancer Canada?  In many ways.
Are you interested in helping others facing cancer challenges? 
I would help in any capacity possible. I would speak to groups, talk with other supporters, media….anything to help YACC who helped us out so much.