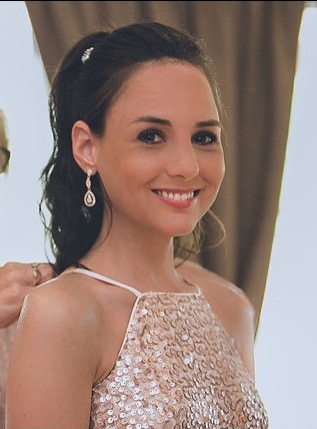 A little bit about you:
Name: Candace
Age: 29
City: St. Catharines, ON
What was/is your diagnosis?
Acute Myeloid Leukemia
What year was it? What was your age at the time?
2014, 23 years old.
Your diagnosis:
In which hospital(s) are/were you treated?
Juravinski Hospital in Hamilton.
What did your treatment consist of?
Chemotherapy, radiation (TBI), allogenic stem cell transplant.
What is your current medical status?
Cancer free!
Life after cancer:
What is/was the toughest part about having cancer as a young adult?
Having my life interrupted. There is no good time to receive a cancer diagnosis but in your early 20s, it's difficult to start a life when facing cancer. Losing my hair (twice) was tough, but it grew back thicker.
What really helped/helps you to keep going while you were/are sick?
Staying positive. Having a good support system. Staying educated.
What kept you/keeps you busy during treatment?
Blogging became a way for me to write down what I was feeling, positive or negative. Spending time with friends and family. Going for walks. Baking.
The issues:
Did/Do you feel isolated from your peers since your diagnosis? If so, how did/does that affect you?
It's hard for anyone to understand what you've been through and how you're feeling during treatment. It's important to connect with others who have gone through a similar experience.
Did anyone talk to you about fertility options before treatment? If so, how did that affect your decisions? If not, what do you wish you had known?
Fertility issues weren't brought up until months after my induction chemo. I was so close to death that I needed to start treatment right away. I went into early menopause after my first round of chemo. My doctor told me that if I were to ever conceive naturally, it would be considered a miracle.
Resources:
Have you participated in any other retreats, conferences, programs, or support groups you'd like your cancer peers to know about?
The Pink Pearl foundation offers programs and retreats for young women facing cancer. Wellspring Niagara also offers a variety of classes and peer support. Although it is more geared towards older adults, I still found it helpful.
Stay in touch:
What would you like to say to other young adults dealing with cancer who are reading this profile?
Take care of yourself mentally! I focused on my physical well being during treatment and recovery, neglecting my mental health.
Are you interested in helping others facing cancer challenges? If so please let us know how you can be contacted.
Yes!
If you want to get in touch with Candace, please send a message to [email protected] and we'll forward it along!
If you would like us to link to your social media profiles or blog, please leave the url below:
My blog: mysterydiagnosisaml.wordpress.com
"It's hard for anyone to understand what you've been through and how you're feeling during treatment. It's important to connect with others who have gone through a similar experience."