As Pride month comes to a close, we want to highlight our incredible 2SLGBTQIA+ community at Young Adult Cancer Canada (YACC)!
Supporting 2SLGBTQIA+ Young Adults With Cancer at Primetown 2022
Queer young adults diagnosed with cancer may find themselves navigating systems, providers, and supports that don't quite "fit." Earlier this month, we were able to explore this theme in an incredible panel presentation at Primetown supported with our community members and partners like Queering Cancer and Princess Margaret Cancer Centre's Sexual and Gender Diversity in Cancer Care Team. The conversation was one full of authenticity, reflection, hope, and electricity!
Our friend, Dr. Cheryl Heykoop (she/her) and her amazing team at Royal Roads University were able to support this incredible conversation by bringing graphic recorder, Erica Bota, of Drawing Change to capture the conversation. The panel moderator was Sydney Gilcrest MSW RSW (they/them) of Umbrella Health, and our panelists included Brendan Lyver (he/him), Dr. Christian Schulz-Quach (he/him), and Margo Kennedy MSW RSW (she/her) of Princess Margaret Cancer Centre's Sexual and Gender Diversity in Cancer Care Team, Dr. Evan Taylor (they/them) of Queering Cancer, Tristan Bilash RSW (he/him) of Allan Blair Cancer Centre, and YACC community members Karyn Avalon (she/her) and Sarah Manns (she/her).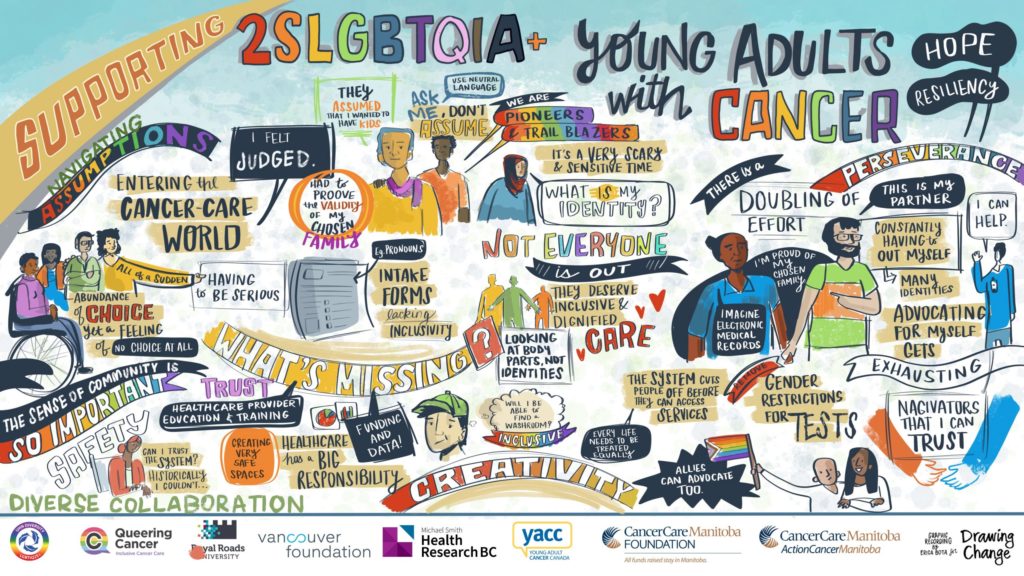 If you're seeing or reading themes that resonate with you or capture your curiosity, please take in the whole conversation! Our incredible and generous panel enthusiastically and vulnerably explored a lot of important ground together. We are so grateful to each of them for sharing their lived and professional experiences, and their commitment to improving cancer care!
Get involved! Ongoing oppportunities at YACC for our 2SLGBTQIA+ community!
YACC hosts a monthly YACC Chat just for our 2SLGBTQIA+ community that you can register for here!
You can also email Lesley at lesley@youngadultcancer.ca and ask to be added to the private Out With Cancer Facebook community.
You can join as a research partner with CancerCare Manitoba and University of Manitoba in a project supported by YACC. We are seeking those diagnosed with cancer between the age of 15 to 39 years that are now over the age of 18 and living in Canada who identify as Persons of Colour, Indigenous, and 2SLGBTQIA+ to act as collaborators in designing and implementing a study to understand and improve health services. An honorarium will be provided for a commitment of six to eight hours of your time over one to two years. Participation is voluntary and all data will be kept confidential. Email Katrina at hansonk1@myumanitoba.ca or phone 204-787-1400 for more information!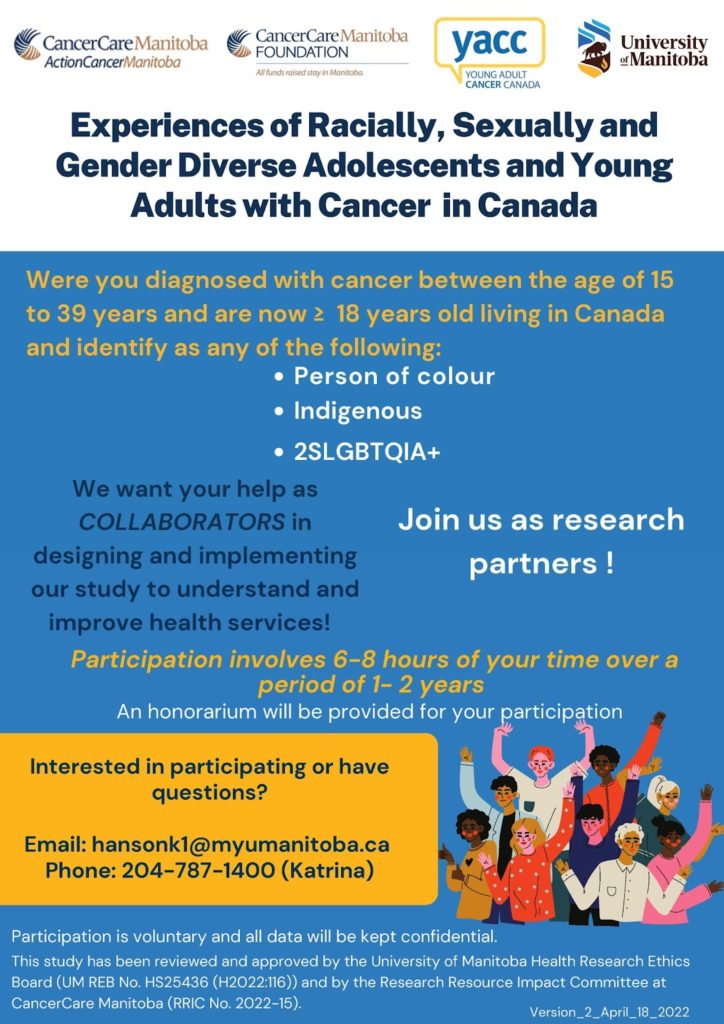 Thank you to our 2SLBTQIA+ community!
We hope that all of you have had an impactful and celebratory Pride month. You are a vibrant and essential part of the YACC community and we look forward to growing our support and resources in an inclusive and meaningful way. Thank you for all of your power and passion!
With gratitude,
Dani & the Young Adult Cancer Canada Team!